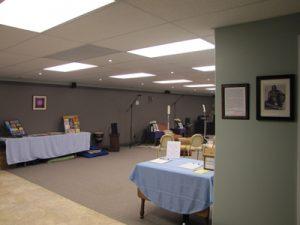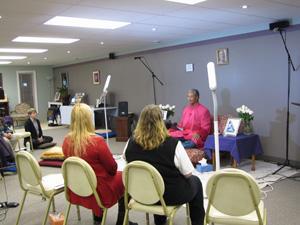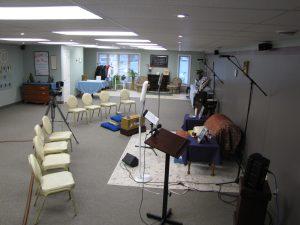 Shaktipat Meditation Retreat Center
Welcome To Nileshwar  – Your Spiritual Home!
Welcome to our international shaktipat meditation retreat center in Youngstown, Ohio!
Nileshwar is a shaktipat meditation and spiritual retreat center and the regional hub for all of our curriculum of study in Nityananda Yoga offered in the region. People travel here from all over the world to attend our retreats and courses.
Nileshwar (it means the abode of the Supreme Being) includes a large, bright and beautiful meditation hall with separate kitchen and dining area. Accommodations are provided for courses, weekend Shaktipat Meditation retreats and retreats of up to a week in length. Accommodations are also provided for short stays for people from out-of-town wanting to attend programs and mini courses, and to perform Guruseva. Accommodations are also available in nearby hotels. **The meditation hall is handicapped accessible.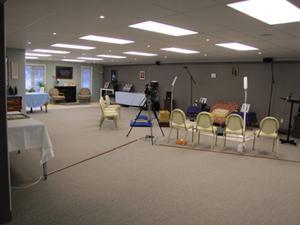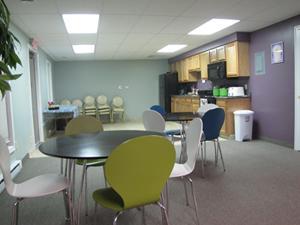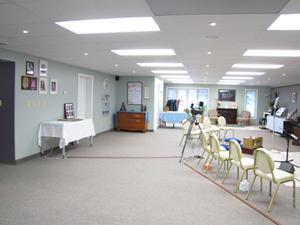 Shaktipat Meditation Retreat Center
The Bhakta School maintains this Shaktipat Meditation Retreat Center where our Nityananda Shaktipat Yoga and Total Well-Being curriculum  is taught. Nileshwar also serves as a spiritual retreat center for those wanting to spend time in Sadguru Kedarji's company, basking in the solitude and serenity that comes with immersing oneself in meditation, chanting, selfless service, contemplative study and more. Sadguru Kedarji's Shaktipat Blessing is offered here. Soma Essential Healing practitioners also lead programs here.
**Nileshwar Shaktipat Meditation Retreat Center is only a 60-minute drive from Pittsburgh, PA, 60 minutes or less from Venango and Mercer county, PA and 75 minutes from the greater Cleveland, OH area.
Nearby airports are Pittsburgh International airport, Youngstown/Warren regional airport and Cleveland Hopkins International airport – all within 60-90 minutes or less from meditation retreat center.
The renowned Mill Creek Park is located just minutes away. The Mill Creek Nature Preserve is also nearby. Mill Creek Park is a metropolitan park located in Youngstown, Ohio. It is ranked as one of the largest parks located within the limits of a US city. With beautiful walking trails and open fields, it encompasses approximately 4400 acres with a variety of bridges, ponds, streams, well-tended gardens, and waterfalls.
This environment makes our Nileshwar retreat center a great place for solitude, meditation and the beauty of nature – in an area where all the necessary amenities are easily accessible.