Shaktipat Retreats Shaktipat Intensives.
Welcome To
The Shaktipat Blessing!
Seeking ends here with Sadguru Kedarji's Shaktipat Blessing. Weekend Shaktipat Meditation retreats.
Sadguru Kedarji
Shaktipat Retreats Shaktipat Intensives – The Shaktipat Blessing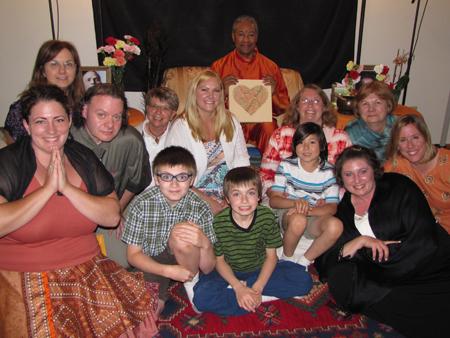 Our weekend Shaktipat Meditation retreat is a mystical anomaly and unfolding experience in which Sadguru Kedarji bestows Shaktipat. For this reason, it has come to be known as Sadguru Kedarji's Shaktipat Blessing. It is offered in our weekend Shaktipat intensive and is the core offering of our school. The Shaktipat Blessing is Sadguru Kedarji's unique approach to transmitting the Grace-bestowing power of the Supreme Intelligence. Students of The Art of Inner Transformation have openly stated that receiving the Shaktipat Blessing from Kedarji is "like being touched by the hand of God."
The Shaktipat Blessing begins with The Maharudra Awakening, a proprietary, 15-minute process that is also taught as a daily spiritual practice which prepares your entire being for the receipt of the Shaktipat Blessing, while invoking healing. Shaktipat is the initiation into the experience of living in a state of Grace. It is the greatest, lasting gift one can receive, as it reveals who we really are and catapults seekers of the Truth into a life of dynamic spiritual transformation.
This offering provides methods for increasing the spiritual awareness and experiences that provide entrance into new and greater dimensions of being, loving and life-changing skills that allow you to live in a state of Grace.
Some Benefits of The Weekend Shaktipat Meditation Retreat Are:
Make Your Restless Mind Quiet In Under 3 Minutes.

Life-changing Skills For Mastering All The Energies of Your Life.

Inner Peace, Inner Strength, Divine Inspiration and Pure Intuition.

The Power To Heal That Is Discovered Beyond The Mind and Senses.

Mental Clarity, Freedom From The Roller Coaster of Emotions, Inspired Decision-Making.
All About Shaktipat
Meditation, chanting, the study of sacred texts – you may find these useful but, on their own, these practices are not enough to secure a steady experience of the Supreme Intelligence or the Self that then permeates your daily, mundane life. For that, you need a catalyst, a spark that will catapult you into a new dimension while making a quiet mind and steadiness of joy, peace and happiness spontaneous and lasting experiences. Receiving Shaktipat from Sadguru Kedarji is a Blessing that secures this state.