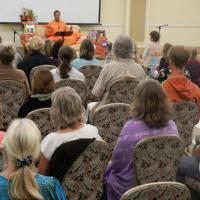 WEEKEND SHAKTIPAT BLESSING RETREAT
REBIRTH AND THE JOURNEY HOME
IN HONOR OF MUKTANANDA PARAMAHAMSA
WITH SADGURU KEDARJI AND TEACHING STAFF
ON 9/30-10/2/2022
Friday from 7:30 – 9pm
Saturday, from 9:45am – 5pm
Sunday, from 9:45am – 3pm
This promises to be another transformational retreat. It is being offered on the occasion of the annual celebration of Muktananda Paramahamsa's Mahasamdhi (final passing). In this weekend Shaktipat Blessing retreat we honor the existence, Blessing and instruction of Sadguru Kedarji's Guru, Muktananda Paramahamsa, one of the greatest Siddhas of our living legacy. To do so, we will be examining the secrets of our Siddha Science that Muktananda Baba imparted and our part in embracing the instruction for realizing them.

**All weekend Shaktipat Blessing Retreats are also framed in lessons and methods contained in Sadguru Kedarji's 4 Pillars of Joy In Daily Living; The Spiritual Power, Improved Mental State, Emotional Resilience and Vibrant Health.
In this 2.5-day weekend meditation retreat Sadguru Kedarji's Shaktipat Blessing will be given. We will examine the wisdom, methods and instruction of our Siddha Science, as taught by Muktananda Baba, and how we can apply these to our daily existence to realize the indescribable Joy and Peace of the Self in every situation and circumstance. There will be a lot of chanting and meditation in this retreat. 
Additional Benefit
One month after this retreat, we offer you a Free, retreat followup orientation. In this follow up orientation, you will experience an introduction to our mini courses that are scheduled year-round. This followup orientation is also designed to offer you any support you need in applying the methods taught in this retreat. **The retreat followup orientation is webcast live, for those who do not live in the region of our retreat center.
WHERE
This weekend Shaktipat Blessing retreat will take place at the Nityananda Shaktipat Yoga Sanctuary and Church of the Heart, 841 Boardman-Canfield Rd., Suite 302, Youngstown (Boardman), Ohio 44512. **This location is handicapped accessible.
**If you live outside the state of Ohio and are unable to travel, you can request to attend this retreat remotely via live webcast if you have attended a previous Shaktipat Blessing retreat or have been otherwise engaged in our program offering through courses on or offline. Contact us to request an application, and with any questions regarding eligibility to attend remotely.
COST PER PERSON
$495 with accommodations
$385 without accommodations
INCLUDED IN YOUR ENROLLMENT AT NO ADDITIONAL COST
Vegan meals included at no cost. ($50 value).

Free participation in monthly Zoom Satsangs each and every month, post retreat (priceless).

The Free, retreat followup orientation.

A free subscription to our eNewsletter. You can safe unsubscribe at any time with one click.
If you want to enroll someone under the age of 18, contact us.
**This site is best viewed in the Firefox browser, especially for making secure purchases.**
**View a Free online video to experience and learn more about our Shaktipat Meditation Retreat and Sadguru Kedarji's Shaktipat Blessing.