Weekend Shaktipat Meditation Retreat Schedule
Sadguru Kedarji's Shaktipat Blessing

Shaktipat Intensive Schedule. You can attend weekend Shaktipat Meditation retreats led by Sadguru Kedarji. Kedarji is a Shaktipat Guru in a long lineage of Sadgurus. In addition, our staff of certified program leaders assists Kedarji in these events.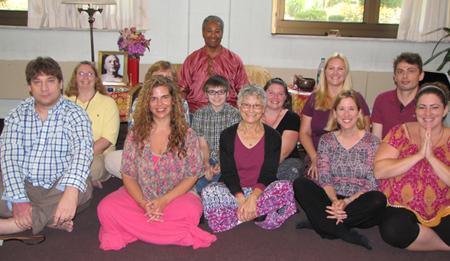 Have you every had the thought, "Is this busy life all there Is?" This world is a busy place. Indeed, it is so full of excess stimulation and perceived instant gratification. However, you are so much greater than that. In fact, you are so much greater than you think you are! Awake to The Supreme Intelligence with our weekend Shaktipat intensives!
Bring Your Seeking To An End With Sadguru Kedarji's Shaktipat Meditation Retreats
You will find the weekend Shaktipat Meditation intensive to be a mystical anomaly. Above all, it is the unfolding experience in which Sadguru Kedarji's Shaktipat Blessing is given. The intensive is the core offering of our school. The Shaktipat Blessing is Sadguru Kedarji's approach to transmitting the Grace-bestowing power of God. Accordingly, students of Nityananda Shaktipat Yoga have openly stated that receiving the Shaktipat Blessing from Kedarji is "like being touched by the hand of God."
Weekend Shaktipat Meditation Retreat Schedule
The Blessings of The Siddhas
With Sadguru Kedarji and Teaching Staff
November 8-10, 2019. Youngstown, OH.
The weekend Shaktipat Blessing Retreat is the core offering in our curriculum. Hear what people have to say about it.
~ Jamie W. Georgetown, TX
~ Amanda H. Erie, PA
~ Kambra M. Pittsburgh, PA
~ Ben T. Parkland, FL
~ Tiffany S. Erie, PA
Shaktipat Intensive Schedule
The Shaktipat Blessing begins with The Maharudra Awakening. This is our proprietary, 15-minute process that is also taught as a daily spiritual practice. In addition, The Maharudra Awakening prepares your entire being for the receipt of the Shaktipat Blessing, while invoking healing. As a result, this profound initiation catapults you into the practice of Shaktipat Meditation. This is the experience of living in a state of Grace. Therefore, it is the greatest, lasting gift one can receive. This transmission of Grace reveals who you really. Above all, it catapults seekers of the Truth into a life of dynamic spiritual transformation.
REGIONAL AIRPORTS TO OUR
SHAKTIPAT MEDITATION RETREAT CENTER IN OHIO
The following are airports within a reasonable driving distance to Nileshwar Shaktipat Meditation, Wellness & Spiritual Retreat Center in Ohio. In most cases, connecting flights to local airports are available, as well.
Pittsburgh International Airport
Youngstown-Warren Regional Airport (limited flights)
Cleveland International Airport
What You Can Expect In The Shaktipat Blessing Intensive:
Sadguru Kedarji's Shaktipat Blessing.

You will learn Spiritual Practices That You Can Easily Apply In Your Home or Office.

Learn , Our Proprietary Approach To Meditating That Makes The Mind Quiet In Under 3 Minutes.

Experience Chanting and Meditation With a Deep Connection to the Divine.

You will learn Principles of Shaivism and The Yoga of The Siddhas.

You will learn Breathing Techniques to Quiet the Mind (Pranayams).

Experience Mantra Initiation and learn Mantra Yoga.
**The Shaktipat Blessing intensive is also a means for seasoned students and experienced meditators to accelerate their spiritual development and practice. These weekend awakening retreats are held in small groups in a quiet setting.